Each week our students participate in Learning Outside the Classroom, a hallmark of the University School approach to learning. Students participate in 30+ field trips a year to experience everything from an artistic performance to touring a landfill, and visiting a religious place of worship to participating in a community service project. These outings provide our students the opportunity to link what they learn in the classroom with real world experiences, and they help our students become more engaged citizens in our community. 
One of USL's most important annual traditions is baking and delivering cookies to businesses, community organizations, schools, and government offices. This gives our students a chance to experience their first off-campus outing of the academic year, helps them develop their conversation skills with adults, and gives them a chance to spread good will in our community.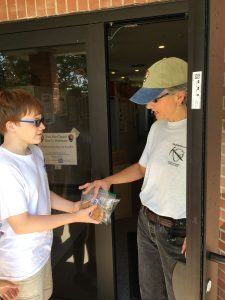 Caleb Herold shares:
I really enjoyed the cookie baking and delivering activity. I had just finished some yard work (note: students were simultaneously helping to clean up the campus after Hurricane Irma) and was asked to come inside and take a turn baking cookies. As soon as I walked into the kitchen the smell hit me. All the cookies smelled so good. My job was to bag and seal cookies. I was amazed by the amount of cookies the oven could spit out in 10 minutes. It was really fun working with everyone to make cookies. Then we had to deliver them. Everyone I talked to and gave cookies to was super nice. I also found that they seemed a little surprised at the acts of kindness. My favorite place to deliver was a small rectangle of shops called The Common. After we delivered the last box to the shelter we were able to eat a cookie. By the time we got back to the gym our group was hot and tired. We sat on the cool floor and waited for the rest of the groups to return. In the end we got to eat even more cookies when Merritt handed out the cookies from the "cookie graveyard." I loved handing out cookies because I know it made someone's day.
Kessler Kreutner-Eady shares:
I have been cookie delivering and baking since third grade. Every year I love the smell of the cookies wafting from the kitchen and seeing the joy on people's faces who receive our cookies.  Every year we repeat the mantra that you might get turned down and that's okay.  This year we delivered cookies to a surf shop and the owner offered us paddleboarding lessons, and Reiley gave cookies to all the police officers on shift change. My favorite part of the day is reflections in the gym at the end of the day. I love hearing what every group experienced.
Nick Rosen shares:
I have really enjoyed doing cookie baking. It's a really good practice for everyone to be able to chat with people outside of school face to face and be able to have a good conversation. All of the school branched out into groups of seven or eight and we walked around Mount Pleasant and gave stores cookies. It allowed me to be open and gain valuable people skills.